These pictures and stories represent just a glimpse of the many children affected by Chiari. Within this page and in other pediatric pages are pictures of children of all ages. Some have recovered well from surgery, others are battling complications daily in many different stages.

Placing the mouse over a picture will show the child's name. Clicking on some photo's will take you to the child's personal web pages. If you would like to share a Chiari Face and/or story, e-mail to director@conquerchiari.org. Please state clearly that we have permission to post the picture to the Conquer Chiari Website.

Faces of Chiari on YouTube



---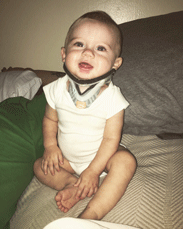 Ollie's story- Oliver was a perfectly healthy 10 month old baby. All of the sudden in May he started getting really fussy would crawl or cruise anymore. In June he started to get worse, crying all the time and when he wasn't crying he was sleeping for 30 min at a time 23 hours a day. When he was awake he would cry in my lap or just lay there. I took him to three different doctors. First said he's teething and some babies are just grumpy, second virus, third ear infection. He was 10 months and he couldn't eat food at all without puking or gagging. He could no longer nurse without gagging. He finished his antibiotic for the ear infection and he was still so wobbly and just sick. I was like screw it there is something wrong, so I took him to the emergency room. The first emergency room said they were very concerned with his symptoms and his breathing (because it had been slow). They sent us via ambulance to UK pediatric hospital. There they did an EEG and found nothing. Then finally after 4 days there they sedated him for his MRI and spinal tap. After that they came in the recovery room and told us he had Chiari but it wasn't what was causing his symptoms. But they were sending us to the PICU because his breathing was only getting worse. We get to the PICU 20 minutes later. The doctor there said he didn't understand why we were there and he was going to send us back down to the floor. 10min later they were putting him on a ventilator because the spinal tap had caused problems with the Chiari. The immediately sent us to Cincinnati Children's Hospital via helicopter. He stayed on life support for 3 days when the finally weened him off. His official diagnosis was: Complex Chiari Malformation, hydrocephalus, and basilar invagination. July 2nd Dr. Vadivelu did his decompression surgery. It went great and we got to go home 4 days later after 2 weeks in the hospital. He is so much happier and smiling all the time now. AND LOVES food now. He will continue with speech and physical therapy. He will be in his neck brace for a year (till he is 2) and have another surgery for the basilar invagination. But for now, he is happier.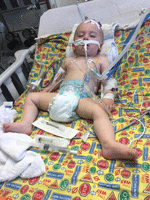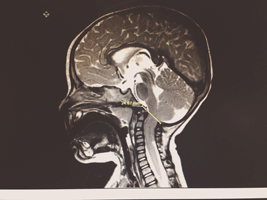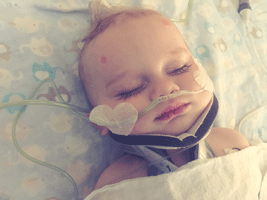 ---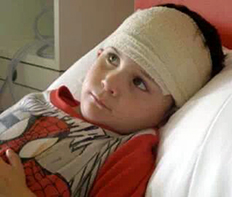 My son Wade was born October 16, 2000, weighing in at 7lbs. He was discharged from the hospital, seemingly as a healthy boy. However, as time passed it became quickly apparent that there was something very wrong. Wade would cry constantly in pain, and wasn't growing. I took Wade to the pediatrician, and he brushed it off as teething. I gave him the prescribed pain medications, but this still didn't explain why he wasn't growing. The pediatrician ordered blood tests, which all came back clear.

By the age of 2, Wade was still incapable of walking, talking, feeding himself or able to swallow properly, and was still significantly undersized. I went back to the pediatrician and he again suggested that Wade was just intellectually delayed.

When Early intervention and a team of psychologists, speech therapists, and occupational therapists were investigating my younger daughter, I begged them to help me with Wades case. They attributed Wade's lack of speech, walking, toilet training, and eating to the fact that he is the youngest child of 6 other siblings and we did everything for him and he needed to do it for himself. I found this upsetting to say the least as we did not do everything for him, considering his older sister, Frances, has downs syndrome.

Wades doctors decided that he was just intellectually delayed and I was a paranoid mother, with an exception to the psychologist who came forward, believing there was a lot more to it. He contacted the pediatrician and asked him to write a referral for an MRI. The next day I saw the pediatrician, he was reluctant and did not want to give Wade an MRI, stating it would prove nothing and wouldn't be any good for his health. Upset, angry, and confused, I asked if it were his own son, presenting the same delays, and such a significantly small structure would you then give him an MRI? He finally gave in, once again stating, "It won't show anything."

After, four hours in the MRI, he finally came out. There was no word from doctors or nurses. He was just released. 2 months passed. When the GP called me into his office, he looked at me with sympathy. He looked as if he knew something that I didn't, I suddenly became very nervous. He told me that Wade required brain surgery urgently, and explained just how sick my little boy was, with Arnold Chiari Malformation 1 and two syrinxes. I asked him to write everything down. I couldn't concentrate to comprehend what he was telling me. I was in shock. I went home in denial, convincing myself that they got the MRI's mixed up. This can not be my little boy. The next morning I called the pediatrician, explaining everything that my GP had explained to me. I was told that his condition was "No big deal" and his surgery wasn't urgent at all.

I then received a call from the Royal Childrens Hospital, and they wanted to see Wade urgently. They explained to me that he had a syrinx in his c section and one in his t section and they had to remove part of the bone at the back of his head. At this point Wade was 5 years old, and still not talking. I was told by his surgeon that his condition was "Rare and fascinating, and can be fixed".

Wade had his surgery in January 2005. For me to hand my son over for brain surgery was something I can't explain. Something inside me died. 5 days later he was discharged. The next day, I noticed his head was swollen, and there was clear fluid leaking from his head. I took him to the pediatrician, scared and desperate. As a mother, I knew this was not right. He told me to "Go home and have a cup of tea" that I worry too much. I put Wade in the car and took him to the Royal Children's Hospital myself on a two-hour drive, him in the back seat vomiting. Once I finally got him admitted they taped the back of his head. His head was leaking brain fluid (CSF). He then started slipping in and out of consciousness, until he went into a coma. He was put into ICU, and operated on the next day to repair his dura leak. 4 days later, he was discharged.

When Wade was 6 or 7 he was able to talk slurred, and unclear words. He was always reporting headaches, migraines, dizziness, numbness in his hands and legs, vertigo, neck pain, and to this day, the doctors are still denying that these symptoms are not in any way related to Chiari when I know for a fact they are. They say there is something else wrong with my boy, but don't seem to be looking for what it is. Only looking for medications to cover up the symptoms. We've trialed a lot of medications, and still can't find any that do him a lot of good.

Also at the age of 6 or 7, Wade attended a mainstream school, he could only do two hours a day. The noise and light was too much for him to handle, he was in too much pain. Two years later, we put him in a special school. To this day, he still attends a special school, with a very low attendance as he if very often to unwell. And 80% of the time he is at school, I have to pick him up early because he can't take anymore.

We are fighting today for doctors to listen to us, to help us, and to believe us. I, as his mother, feel so helpless. In Australia we don't have any Chiari or Syringomyelia specialists as there is in America and other parts of the world. I'd love for Wade to have access to these brilliant people but it is impossible for him to travel. We need help. For someone to stand up for us and say that these symptoms he suffers are related to Chiari.
---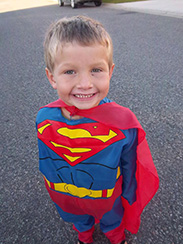 Note from author: During walk planning for the 2013 Conquer Chiari Walk Across America, I was introduced to Ian Autry. I had no idea that this was the father of the little boy I had read about the previous year when a head injury took his life. It was unknown before his accident that he had Chiari Malformation. It had touched my heart so deeply, even more so, the journey towards awareness and the way they keep Bryce's memory alive every single day. Losing a brother in my teens, I understand the trial and tribulations this family has endured, it takes a toll personally, physically and emotionally. This special "Faces of Chiari" is dedicated to Bryce and the unwavering love and dedication of his family. ~Melissa Neff~
On March 30th, 2012 the family of 6 year old, Bryce Autry said goodbye to him, days after he had fallen off his wagon and was unresponsive to what was first thought as a head injury. An MRI would later clarify that he had Chiari Malformation. During this devastating time they made the very difficult choice of donating his organs. This unselfish act, in turn helped 6 people from the ages of 17 months to 49 years old. In September, a nervous and emotional, Ian Autry was asked to speak at LifeCenter Northwest's Donation Celebration, where he also wrote letters to the recipients of Bryce's organs and corneas.
In September, 2013, a month before Bryce's 8th birthday, Bryce's parents Ian and Aria, and his five older siblings hosted the Conquer Chiari Walk Across America in Bozeman, Montana to bring awareness of Chiari Malformation to the community. Thanks to his oldest sibling Brittany, a budding photographer, they had many pictures of Bryce who is described as being "happy go lucky" and thankfully, quite the little ham.
December 20th, 2013, a year and half after saying goodbye to Bryce, they had the chance of meeting one of his recipients. "We were really excited that this day came," said his mom. "We were counting down... Oh my gosh we're actually going to get to meet her." Twenty-one-year-old Emelia Mijangos, received one of Bryce's corneas, after growing up with a degenerative eye condition that kept her from driving and going to college. After a tearful meeting, Mijangos quickly expressed her gratitude. " I already feel like you guys are my family," she said. The Autrys said it was surreal to look at her and know part of their son was looking back.
In January 2014, Bryce's 'florograph,' a depiction of Bryce, was part of the "Donate Life" float in the Rose Parade, dawning his now widely used picture of his "Superman" costume, a fitting picture for a little guy that gave 6 others a chance at life, a true superhero!
Our best wishes go out to the Autry family as they continue to heal and keep Bryce's memory alive in those they inspire to learn more about Bryce and Chiari Malformation.
News: 6-year-old's organ donation will help other children
Video: Family of 6-year-old boy meets woman who received his cornea
---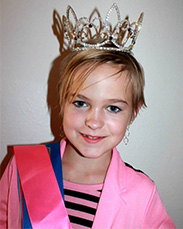 Sara has always been my one child that is known to be a klutz, so when she would fall down running due to losing her balance I would think nothing of it. When she complained of slight back pain, I again did not think much of it as she is always running around doing flips. It's normal, she is a kid, she is having fun. That all changed in March 2013, when we went to the doctor for her normal check up at the age of 9.

Her doctor noticed a slight curve in her spine and sent us for X-rays. Her doctor even reassured as that it looks really slight and most likely will just have to be monitored as she grows. Two hours later we were being set up for an appointment with a Pediatric Orthopedic. Due to her severe case of Scoliosis they sent us for a MRI, as her Orthopedic stated it is not normal for a child her age to have this without something else going on. A week after her MRI, we get the call that she has a Chiari Malformation and was set up to have an appointment with the Neurosurgeon. Not only does she have Chiari and scoliosis she also has syringomyelia with about six syrinx's along her spine. The Chiari is also restricting her CSF flow. Sara was scheduled to have surgery on July 31st.

She was such a champ the day of surgery. All smiles going into the prep room and talking with both the nurses and the doctors. Sara never lost her smile at all. She was even reassuring me saying "mom it will be fine". The doctor came out after surgery and let us know that everything went well and that soon I could go back and see her in recovery. I honestly will say seeing her in recovery was very hard. Not being able to help your child and see all the machines monitor everything, and IV's in her small arms, it was a trial. I was so glad and thankful when she first opened her eyes and said "Hi mom is it already done".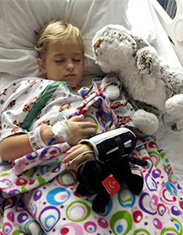 Her recovery went amazingly well. Again all smiles the whole time. All the doctors and nurses were amazed that this little girl never once complained of pain, and was always so courteous saying thank you for everything. She was healing so well that after 24 hours she was taking nothing for pain. She was released from the Hospital on Aug 2nd.

She missed her first couple weeks of school which was the hardest for her. In the past 3 years she has only missed five days of school and that was only due to Robotic competitions. Once she got back to school everyone was wondering how she was doing and were checking out her scar (we call battle wound) as it was clearly visible due to her going to a pixie haircut. Sara being the amazing girl she was explained to everyone what happened and why she had surgery. I received tons of complements on her strength, knowledge, and willingness to help others understand.

As of today, when you look at Sara you could not tell that this year has been a trail for her, you cannot tell that months ago she was in so much pain that sometimes she was curled up in tears, today all you see is this amazing young lady speaking up and giving Chiari a voice. Since surgery she has signed with a modeling agency, getting ready to do a local commercial this winter, being Captain of her Robotics teams, and working on spreading the word about Chiari and is just an amazing daughter.

The first picture is her winning Queen in her division, most beautiful eyes, most photogenic, three weeks after surgery. The second picture was taken after they moved her to PICU.