What Is Chiari Malformation?
a serious neurological disorder where the bottom part of the brain, the cerebellum, descends out of the skull and crowds the spinal cord, putting pressure on both the brain and spine and causing many symptoms.
---
Common Symptoms
Chiari has a wide ranging, diverse set of symptoms and affects everyone differently. Research shows that 95% of patients experience at least 5 symptoms. (see Symptoms Presentation above)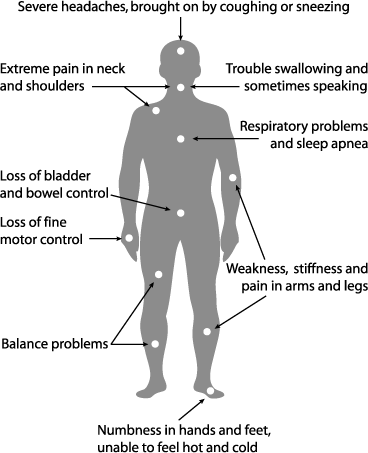 ---
Has your child been diagnosed with Chiari?
Children cannot always verbalize what they are feeling, sometimes the first clue is lack of proper development, either physically or cognitively.

Fortunately, pediatricians are becoming more aware of Chiari, resulting in quicker diagnoses for children.

Click on Nicole's picture to enter our pediatric section for pediatric related articles, literature and support.
---
Chiari Journeys
From Patient to Doctor-
Follow Claudia at:
claudiaimartinez
Chiari Malformation-Lily's Point of View

Detroit Pistons Dancer Nichole Josey shares her journey with Chiari Malformation
---
| | |
| --- | --- |
| | Volunteer. Donate. Review. |