The success of CCWAA is in large part to the people who decide to take on the task of planning a walk. Because of them, others with Chiari and related disorders are brought together, some for the first time. We asked our organizers for a "short" story, explaining why they are involved with the walk. Get to know your local site organizer. Click on the organizer's pictures to view their flyers.
---
Daphne Renfroe | Tuskegee, Alabama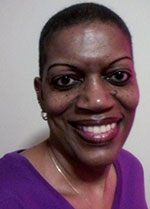 I suffered all my life as far as I can remember with real bad headaches. For 51years I could not bend over to tie my shoes or if someone said something real funny, I could not laugh like I wanted to because my head would just throb with pain. I was diagnosed with Chiari in May of 2013 and had my surgery August 2, 2013. Since then I am able to tie my shoes and laugh at anything I want and my head does not hurt. I still have some of the other symptoms that are associated with Chiari.

For me to be the only person in my family and in my city that I know of to have Chiari, I get a lonely feeling sometimes. I know I am not alone because I have a wonderful group of family and friends to stand by me and support me. I also have a wonderful support group within the Chiari organization. I really enjoy organizing the walk in Tuskegee, Al. This is my second year as organizer for this area. I want to help raise awareness so that we can Conquer Chiari.
---
Bethany Wells | Phoenix, Arizona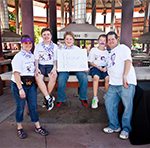 My name is Beth Wells. This is the 5th year our family has been organizing the AZ walk. We attended the first 2 walks, in 2008 and 2009 in AZ. In 2010, we learned there was not going to be a walk. So in 2011, we stepped up to bring the walk back to AZ.

Our motivation to organize the walk is our 15yr old chiari hero. He was diagnosed with chiari and syringo when he was 6 and had surgery shortly there after. Thankfully he has been feeling pretty good...but unfortunately his MRI done in Jan 2017 shows a much larger herniation and syrinx as well as more enlarged 4th ventricle. He is scheduled for another decompression surgery in June, 2017.
---
Londa Wells & Andria Netherton | Springdale, Arkansas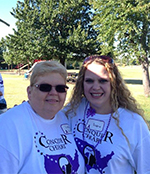 When I, Andria (right) was diagnosed with chiari malformation in Nov 2010, we never heard of it so we searched around to learn all we could. We learned very quickly that it wasn't as rare as we once thought. There were many people in the same position as me. With very few people having heard of it, plus knowing there wasn't a cure, we decided to team up with Conquer Chiari and start a walk for Northwest Arkansas in hopes of raising local chiari awareness and funds for research. We started the walk in Springdale in 2012 after traveling to Little Rock to walk in 2011. Little did we know that mom, Londa (left) would be diagnosed with chiari in Nov 2013.
---
Sunny Gilstrap | Sacramento, California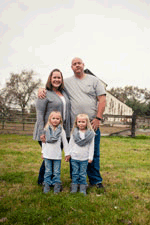 My name is Sunny Gilstrap. I am the mother of two beautiful twin girls and wife to an amazing man. When my youngest twin (by one whole minute!) was born, she came into this world fighting. She fought to survive, and she nailed it! About eight months later her Pediatrician was concerned of possible fluid in her brain, so we had to have an MRI done. Luckily, no fluid. However, it was found that my baby has Chiari Malformation. I was told over the phone, a first time mommy with two babies, and the doctor, with 40 years of experience told me to write it down, how to spell it and I needed to research. He had only seen this twice during his tenure, Riley was his second case.

I did what any mom would do, I cried for a minute, and then I got to work. We were referred to an amazing neurosurgeon, whom I trust. Which is good, as she may be performing brain surgery on one of the best things I ever did in my life. And we found Conquer Chiari. At our first walk in 2013, we discovered that there are so many out there struggling with Chiari, and unfortunately, most doctors cannot even pronounce it correctly. I am hoping to be a part of changing that.

In 2016 I was given the opportunity to organize our local walk, and it was such an amazing experience. I am honored to be a part of this group, and so excited to see what is in store for this organization and our Chiari Community.
---
Blanca Diaz | West Palm Beach, Florida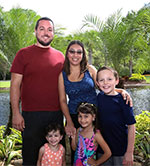 ​My name is Blanca Diaz. I am a mother of 3 amazing little monsters and a wife to the most amazing supportive husband. I have been suffering from migraines since Elementary school. After multiple visits to doctors by my mother and no answers from them other than it was all in my head (no kidding). My husband finally said enough was enough and together we finally found a doctor that would get answers.

In 2009 I finally knew what was wrong and it was the first time I had ever heard of Chiari Malformation. The doctor said it was nothing to worry about and sent me on my way. But it wasn't enough for me, since then I have found a great team of doctors who have helped me tremendously. It was one of my doctors who first told me about Conquer Chiari and where I first saw the amazing work people all over the United States do each year to make this possible. I started organizing the West Palm Beach, FL walk in 2016. I can not express how overjoyed I am to be a part of this and bring awareness to my area and look forward to meeting new people.

​I never could have imagined how many people have Chiari Malformation in my area, after believing I was the only one. I am so incredibly honored and humbled by the families and individuals I have meet along the way. I look forward to another great and successful year. ​

Join us in West Palm Beach, FL!
---
Amanda Heath | Augusta, Georgia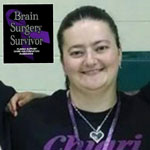 Hi my name is Amanda Heath. This is my 1st year organizing a Conquer Chiari Walk in my area. My plan is to hold one every year from now on. I have never heard of Chiari till February 1, 2012 when I was diagnosed at the age of 32 with Chiari Malformation and Syringomyelia. I had brain surgery 20 days later. I suffered from headaches and passing out for over 20 years before I was diagnosed. I thought I was all alone suffering till another Chiarian found me through Google. I am learning this disease is not as rare as I thought. I suffer every day and hate that people and doctors do not know about this condition. I have a passion for getting awareness out and hopefully one day we will be nationally known just like cancers are. Together we can all make a difference working together to get awareness out.
---
Shawn & Nicky Boden | Quincy, Illinois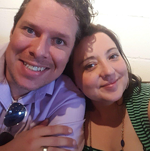 Shawn and Nicky Boden will have been married three years in October of 2018. They are the organizers of the Quincy Il Conquer Chiari Walk Across America. The reason for getting involved with the CCWAA is because Nicky was diagnosed with Arnold Chiari Malformation 45 days before their wedding, and before that, like most people, had never even heard of Chiari Malformation. This will be the 3rd annual walk here in Quincy, and the first that Shawn has "officially" co-organized. The last two were done with the help of Nicky's lifelong best friend Sarah Becks, who had to step back this year due to family obligations.

After Nicky's diagnosis, it became their mission to learn everything they could about Chiari and educate as many people as possible. This has included being on local news and radio programs, as well as speaking in front of the local Kiwanis club.

The first walk here in Quincy was 3 months after Nicky's decompression surgery, but it still went off without a hitch, and while the second was an even bigger success, we're hoping to increase awareness and participation even more this year! We continue to believe that it's important to connect the newly diagnosed with the experienced Chiarians so that we are able to lean on, help, and learn from one another!

We are VERY honored to continue to represent the Chiari Community here in the Tri-State area and hope to bring the Chiari fighters together with our local community all while raising money for Chiari Malformation research and Awareness. #ChiariStrong

---
Don Tryon | Auburn, Massachusetts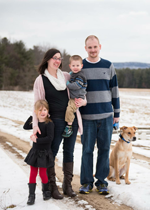 My name is Don Tryon and this is my first year co-organizing the Massachusetts walk with Diana Casavecchia, which will once again be held in Auburn, MA. I was diagnosed late January 2008 and have undergone two Chiari related surgeries; decompression at Baystate Medical Center in Springfield, MA in March of 2008 and a revision surgery at Tufts Medical Center in Boston, MA in November of 2012. I have been active in the Chiari community since my diagnosis, founding the "Chiari Network" (online support group) and spearheading "Team Western Mass" at the Massachusetts walk site annually since 2012. My strong support foundation includes my wife Jen, children Emily & Matthew, mother Debra & late father Don Jr., in-laws Mark & Kate, Grandparents, siblings, countless extended family & friends, and of course my fellow Chiari Warriors who have been there every step of the way.
I am amazed at how far we have come as a community and medical society since my diagnosis but we all know there is still a long way to go. Our story is just beginning and it's thanks to organizations like Conquer Chiari that it's finally being heard!
---
Nichole and Karen Josey | Shelby Township, Michigan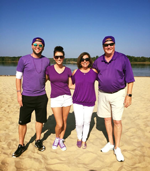 We are Nichole and Karen Josey from Swartz Creek, MI. This is our first year heading up the walk in Shelby Township, MI and we could not be more honored to be in this role. We have attended the walk here in Michigan since 2013 with a team and are eager to be on the other side this coming year.

Nichole, 25, was diagnosed with Chiari in 2011. Her journey with Chiari began way before that however although we were unsure as to what it was. She started showing symptoms of Chiari in the Fall of 2009. As many with Chiari have experienced and families can sympathize too, we went through many different doctors appointments, for 2 years, finally receiving the diagnosis in 2011. Nichole had her first decompression surgery in August of 2012 with another following exactly 2 weeks later. Since August 21st, 2012 Nichole has been doing good without any complications.

For 2 years we attended the walk with a team banding together raising awareness hoping to help others not go misdiagnosed, but little did we know at this point we had it happening still within our own family. Karen, Nichole's mom, was diagnosed in 2014 after being in a car accident. She has not yet had decompression surgery.

We hope to continue to bring awareness to Michigan through the Conquer Chiari, not just on the day of the walk, but also during the days, weeks and months that lead up to it and follow after it.
---
Emilie Anderson | Twin Cities, Minnesota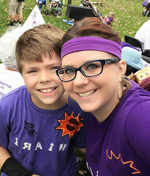 This is my first year as organizer for the Minnesota Walk. I have been co-organizer for past two years behind a great walk leader and I am honored this year to step up in her footsteps and take the lead.

In 2013, when my son was four he was diagnosed with Chiari Malformation after complaining of leg pain and having behavioral issues. We were referred to Gillette Children's Hospital in Minnesota where it was found that Nolan had Chiari and a tethered spinal cord. He underwent decompression surgery and surgery to release his spinal cord that December. The surgery went well but a week later Nolan developed hydrocephalus and had to undergo emergency surgery to have a VP shunt implanted. Since the shunt implant and the decompression surgery Nolan has been healthy and happy with little to no symptoms and is living a normal 10-year-old life. He is even competes as a hip-hop dancer!

I received so much support and love as our family was going through Nolan's diagnosis and surgery and I feel blessed every day that he is living such a healthy life that I feel it's important to raise money through the CCWAA for Conquer Chiari to help those who may not be as lucky as my son or for the day my son may need more help and through research and Conquer Chiari help was found. This is why I walk. I walk for my son.
---
Mary Cremer | Jefferson City, Missouri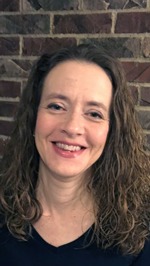 My name is Mary Cremer. My 14 yr old figured out I had Chiari after over a dozen doctors missed it and my MRI read "normal". Since her discovery, I have had 3 brain surgeries, tethered cord release surgery and cervical fusion. I also had a small syrinx. I have Ehlers Danlos Syndrome, CSF Leaks, MTHFR and other co conditions. I believe knowledge is power and bring about awareness about Chiari by openly speaking about it. I am also a Chronic Pain Patient Advocate and believe we all need to come together to keep government out of our healthcare decisions. Feel free to ask me any questions because I am glad to help anyone navigate this system. Chiarians are strong!

---
Jessi James | Lincoln, Nebraska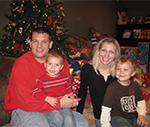 My name is Jessi James and I was diagnosed with Chiari and Syringomyelia at the age of 17. I have had 2 decompression surgeries since then. This is my 4th year participating in the Walk Across America. For the first two years I was a co-organizer, and this is the second year I am serving as state representative. My motivation in being involved is the lack of awareness there is about this malformation, and how many people suffer because of it. I hope to make someone's life easier and brighter because of what we are doing!
---
Charity Pagano | Albany, New York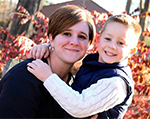 In 2010, my two year old son, Salvatore was diagnosed with Chiari Malformation, Syringomyelia and Hydrocephalus. We were completely taken by surprise. He had taken a fall and after a precautionary CT scan revealed he had Hydrocephalus( unrelated to the fall) he was sent to a neurosurgeon who subsequently diagnosed him with Chiari and Syringomyelia. We were reeling from the news. Our two year old, who we thought was perfectly fine might need brain surgery. I was searching for any information I could find since I had never heard of Chiari before.

I came across the Conquer Chiari website and discovered that there was going to be a walk in my area in two weeks. My family and I attended the walk and met so many people struggling with Chiari. We gained valuable knowledge from experienced Chiarians. My son has now endured 2 brain surgeries and is doing well.

I was so thankful for the support we received at the walk that when the opportunity opened up to take over the walk in Albany, I jumped at the chance. I am so motivated to share our story and help others that might be in the same place we were when we got the diagnosis. It is my goal to raise awareness about this condition and I hope to make an impact by organizing this walk!
---
Nadine & Gene Horn | Rome, New York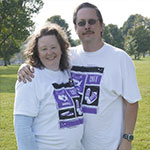 After suffering from migraines/headaches since I was little, followed by various, intense symptoms into my adult years, I was "officially" diagnosed with Chiari in December 2010 and by January 2011 had to stop working due to the severity of my symptoms & still am unable to maintain employment because of this. I saw a Neurosurgeon, who deemed me "non-surgical" at the time, so I basically just had to stumble along trying to find answers, hoping/praying I'd get better.

In September 2011, I attended my 1st CCWAA in Fredericksburg, VA, meeting alot of new friends & the guest speaker, a Neurosurgeon, who (at an appoint in December 2011) determined that I do have CM1, a couple of deteriorating vertebrae in my neck, and Ehlers-Danlos Syndrome. I was supposed to have decompression surgery & neck stabilization, but was unable to go thru with it, due to unforseen circumstances. In addition, and since we've moved, I have seen additional Neurosurgeons; however, at this time we have chosen to wait on any surgery unless absolutely necessary.

My husband & I moved to Rome, NY in November 2012, the closest 2 areas that had walk sites were on each end of the state, both of which were approx. 4 hours away from me. Feeling it's important to raise as much awareness as possible for Chiari & adding locations to allow for closer accessibility (because travel can be difficult for many Chiarians) led me to volunteer to be a site-organizer here. We are stepping into our 5th year as well as looking for additional ways to help raise awareness, including a new endeavor entitled "Stick It To Chiari" – a Hockey/Sports-focused venue.

In The News | Read Article & Watch Video
---
Amanda Griffith | Charlotte, North Carolina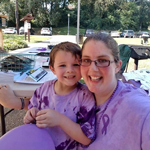 My name is Amanda Griffith and this will be my 2nd year doing our walk in Charlotte, NC. My son, Colton, was diagnosed with Chiari Malformation in September 2014, at 2 years old. He was in extreme pain and the only thing he knew to do was lay in the floor and scream, while holding his head. It was a difficult journey for us to be able to find the cause of his pain, and find a doctor that would actually listen to us. After he was diagnosed, we had our first meeting with a neurosurgeon in October, who told us he should be fine, Chiari isn't that bad in children. Colton's symptoms got worse, he was unable to walk without falling, had busted his head open twice due to falls, he was unable to eat without getting choked, his muscles started giving out on him, and more. We had another appointment in November, right after Thanksgiving and the doctor finally saw what we did and he was scheduled for decompression surgery December 11th. 7 days later he had complications and fluid build up and was sent in for emergency surgery. Since these 2 surgeries, Colton has been a happy and wild little boy. He has started to have symptoms reappear but we are confident that we will be able to get things under control. I hold a walk, and fight so hard for Chiari and a cure for him, and for all those who have to suffer.

We can't wait to make 2018 a record breaking year, get the word out there about Chiari and help find a cure!
---
Angi Barnett | Beavercreek, Ohio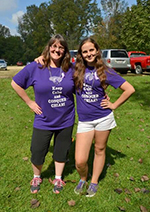 We are Angi Barnett (left) and Samantha Goeller. 2015 will be our 3rd year organizing the walk for CCWAA in Beavercreek, Ohio. Samantha was diagnosed with Chiari Malformation 1 at the age of 15. She will turn 18 in April this year.

Our main goal is to raise awareness of Chiari Malformation. It frustrates us that there is so little information and so few who know about Chiari. Organizing has helped us learn more about Chiari and meet wonderful people going through similar situations. We had 288 participants at our walk last year. We hope to reach 350 this year since we are starting the planning much earlier than last year.
---
Laura Mariani | Dayton, Ohio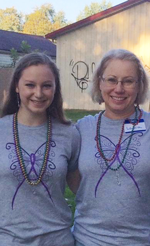 My name is Laura Mariani, and my daughter has Chiari. She was diagnosed at age 4 and had decompression surgery shortly thereafter. It took almost 2 years to get a correct diagnosis. We had never heard of chiari, and it was a frightening and isolating diagnosis. She is now 17 and is fortunately doing well.

Conquer Chiari was a valuable resource for us when we had no idea where to go for answers. When our local walk started up 5 years ago, I knew I had to be involved and give back. Being able to connect with others in their chiari journey and know that we are not alone has been invaluable. I helped with the walk for the past 5 years, and this year I am taking it over from the previous organizer. I have met so many amazing people and heard so many stories of strength and courage. I hope to continue the success of our walk for them.

---
Kristy Gergal | Lancaster, Pennsylvania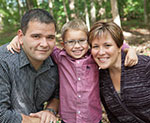 My name is Kristy Gergal. This is my first year as an organizer, and the first year for a walk in Lancaster, PA! My motivation for organizing the walk is my 6 year old son Chase. He was diagnosed with Chiari when he was a year and a half, and since that time has underwent 4 decompression surgeries. Like most other people, we had never heard of Chiari and were afraid and searching for any information we could find.

Now that we have a handle on understanding the diagnosis and what it means for Chase, we would like to make a difference to others. By sharing our story, we are helping to raise awareness and trying to help others who are as frightened as we were when we found our son needed to have brain surgery. Chase has so much support behind him from our wonderful friends and family, who I know will help make this walk a huge success!
---
Kristen Opfer-Grim | Lehigh Valley, Pennsylvania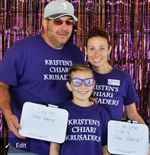 Hi, my name is Kristen and I am the lead organizer of the 4th annual Conquer Chiari Lehigh Valley Walk. I was diagnosed with Chiari in 2002 at the age of 22 and have had 6 surgeries to date for my Chiari and Syringomyelia (as a result of being misdiagnosed for years). 8 years ago, my loving but crazy daughter, and loving but crazy sister and I did our first walk; and each year I have gotten more and more involved in organizing a local walk. I co-organized in Philadelphia and Levittown and was thrilled when a walk started closer to me in the Lehigh Valley. Each year my team has also grown more and more (we went from the 3 of us to over 20 last year!) and I am so grateful for the support I have from my friends and family. I look forward to the walk each year as

I am always thrilled to get to meet others with Chiari and to feel that in my way I'm fighting back and making a difference for others. Can't wait to see you all there as we walk to Conquer Chiari in 2018!!!
---
Sarah Johnson | Clemson, South Carolina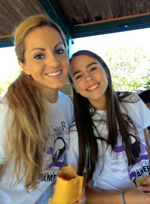 My name is Sarah E. Johnson (left), pictured with my Co-Organizer, Leah Anderson (right). I am a Clemson University Alumna, Medical University of South Carolina Alumna, and a Chiarian. I was diagnosed with Arnold Chiari I Malformation (CM-I) in 2008, after a series of soccer injuries and concussions, which led to debilitating headaches and piercing neck pains. My diagnosis was confirmed after an MRI scan of the brain; CM-I.

In the past few years, I have experienced my symptoms increasing in severity. I have been put on various medications to help treat my symptoms and have now found a good combination that works best for me, as I am not a surgical candidate. Every Chiari case/patient is different! We are here to support one another in our Chiari journeys and that is why I have become involved in this fabulous (and FUN!) event.

I am truly honored to represent Conquer Chiari in Clemson, SC for my fifth year as a Site Organizer. Our hopes are to bring together fellow Chiari Warriors and community members in the Upstate of South Carolina, while raising funds and awareness for Chiari Malformation research!

Join us and help Conquer Chiari!
---
Tina Curd | Mountain City, Tennessee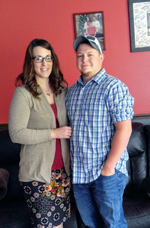 We found out a few years ago my husband has Chiari Malformation, getting this diagnosis was not easy as we are from a small town and it seems doctors around our area knew little to nothing about Chiari. My husband was misdiagnosed multiple times until he wound up at the ER where they found Chiari by mistake. Even after getting this diagnosis his neurologist didn't agree and kept continuing to misdiagnosis him. We now have a great neurologist and my husband had a successful decompression surgery 3 years ago. My mother in law and I stumbled upon this Chiari walk research last year and decided it would be a great thing for our small town! Being the small town we live in we are now trying to help spread the word and knowledge about Chiari. The Conquer Chiari Walk has helped us spread our knowledge to so many and we hope to continue to keep this going and raise money for research for Chiari.

---
Debbie & Breanna Williams | Morgantown, West Virginia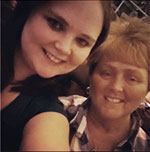 We are Debbie and Breanna Williams from Morgantown, West Virginia. My daughter, Breanna, was diagnosed with Chiari malformation at the age of 16, decompressed at 17. As she became very ill, with almost every Chiari symptom, it hindered her life in many ways. Fortunately, after having the surgery and being 7 years post-op today, she has just a few symptoms today. However, she has severe memory lost and doesn't remember being sick. Breanna has a son who is almost 4 years old and the joy of our lives! She works from home as a medical coder, taking online classes to further her education, and takes care of her son, Landon, full time.
My daughter and I started the Morgantown, WV Walk in 2013. In 2012, as I was having chemo due to being a TNBC survivor, Breanna asked me to attend a Chiari Walk with her if one came close to us and I felt good enough. Luckily, the Charleston walk was close and I was off treatment at the time. She had a great time and met new Chiarians who became some of our dear friends. This has been a blessing in disguise for me to be honored to serve as a representative for the Conquer Chiari Walk Across America. It's my pleasure to not only give to my daughter, but give to the Chiarians fighting this terrible disease. I look forward to volunteering my time to the Chiari Foundation as I am rewarded with friendship through the years to come.
---
Ashley Thompson | Madison, Wisconsin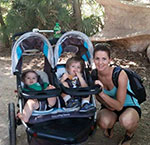 My name is Ashley Thompson. I am an Airmen, mother of two, and Chiarian. After suffering from debilitating migraines for nearly 10 years and a few years of vertigo and other problematic symptoms; I was diagnosed with Arnold Chiari Malformation in early 2014. Long story short, I was finally able to get my doctor to schedule an MRI. I went home and did some research before my MRI and talked with my family. After talking with my half-sister on my father's side, I learned that she was experiencing the same exact symptoms and had been diagnosed with Chiari. With that handy information I went in for my MRI telling them "my sister has this, please check me for it". Sure enough they were able to "see" it, a 9mm+ descent. I met with a neurosurgeon and a few weeks later I underwent decompression surgery with a laminectomy. I have felt great ever since and am almost back to my "normal".

In 2015 I became involved with CCWAA as a site Organizer. I thought it was an amazing event/experience and decided that I wanted to be a part of this wonderful organization. My hope is to bring together fellow Chiarians and community members in the Madison area to increase Chiari Malformation awareness for a brighter and more knowledgeable future not only for us, but also for our children!

Join us in Madison and help spread the word!
---
Angela Zuniga-Meyer | Milwaukee, Wisconsin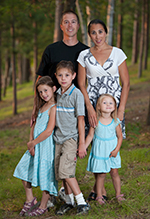 1997 changed my world. I was a carefree freshman reveling in all the traditions and fun at the University of Wisconsin-Madison, until I became very ill and required a neck lymph node biopsy. After the surgery, I immediately indicated something was wrong with the back of my head and neck. All the surgeons and doctors thought it was due to surgical positioning.

The months and years that followed saw a drastic increase in unexplained neurological symptoms and pain. I began losing functionality and strength in my extremities and even suffered drop attacks on the way to cheer on the Badgers at Camp Randall.

Many specialists later, one intuitive doctor says "I think you may have a condition that I have heard of but never seen". Determined for answers, he sent my films and medical record out for review, they came back confirming, Arnold Chiari 1 Malformation. I was decompressed at the University Of Wisconsin-Madison Hospital in the Fall of 1999. Since then, I have been diagnosed with Craniocervical Instability, Klippel-Feil syndrome and Autonomic Dysfunction. I have visited doctors all over the country to decide the safest route to stabilize my conditions. Deciding to wait on the fusion and revision surgery has been a long hard journey.

I know far to well that awareness brings action. So I must bring this walk to Wisconsin because Chiari needs action and advocacy. As my family and friends support me, I want to help support our Chiari community in Wisconsin. My name is Angela Zuniga-Meyer, I am a survivor and I want to help Conquer Chiari.