Has your child been diagnosed with Chiari?
If you suspect that your child has Chiari or have been recently diagnosed, these pages may be useful in helping you understand the condition. Click on "Browse Pediatric" in the navigation bar to find patient literature to help you explain to family, friends, medical professionals and teachers that may have a part in the care of your child. You can also meet "real" pediatric patients, get connected to other parents on Facebook and find some hope from other children who battle Chiari everyday.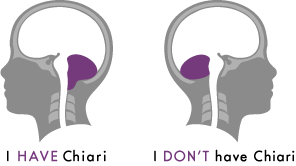 ---
Faces Of Chiari - Kimberly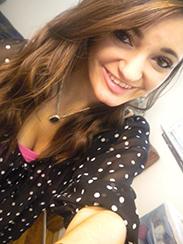 Hi my name is Kimberly. If you can ask anyone about me, they use to say a girl who loved to have fun, joke around, be a normal average girl. Today, people say a girl who is fighting for her life to live.

Growing up nothing never ever worried me. I never worried what tomorrow is going to bring, I did not have to worry. In December of 2008, all my dreams I once strived for, suddenly got taken from me. I got into a car accident, a very severe one, which I thought I would not make it through. I did make it through though. I was only 12 years old. I was still a little girl. I was in 6th grade.

After that day everything went downhill. I started to get these very bad headaches; I would get dizzy, lightheaded, in so much pain that I just want to pass out. My parents and I finally approached the doctor, to see what is going on. I was diagnosed with Arnold Chiari Malformation Type 1. I was still only 12 and I knew my childhood, and fun and games were now over. I had to mature and take this serious now.

I am 16 years old now and currently in 10th grade. I am still the exact same, even worse. I wake up with fears, and worry if I will even make it through the day. I went from being a normal girl, to not normal. I have to live my life different then and still have to even to this day. I had to mature and know this is a serious matter. I did not ask for this happen to me. I do not wish this brain injury on no one. Not even the devil himself. I had to give up everything I love to do softball, bike riding, parties, sleep overs, band, etc. The list is more than 100 things.

The only thing I can do is advocate for other girls and boys that are going through this. To tell them there is still hope for all of us. There are days I just want to give up. Even days when I go to bed in pain, and I wish I wont wake up. But im a fighter, we are all fighters I cannot let this injury take control of me, and my life. I still am in pain every single day. I do a great job of hiding of it, but other days I am not good at hiding it.

I did not get the surgery yet, but in soon time, I will be. Then just maybe, just maybe I will remember what normal feels like, because if someone ask me how does normal feel, I do not remember and cannot answer. It been 4 years of my life taken away from me, I cannot relive those 4 years ever again. But each and every day I shall take the pain, the tears, and the suffering with me, and I will fight this till the day I die. And when darkness shadows over me, I shall find the light through and show the world I am Kimberly and I'm fighting my life to stay alive each and every day. There is hope. There are miracles. I will get mine.

Take a look at Kimberly's video in the left side bar!
---
Quick Facts About Pediatric Chiari
Although it is estimated that Chiari affects about 300,000 people in the US, it is not known how many children are affected.
Up to 30% of children born with Spina Bifida also have Chiari.
Trouble swallowing is one of the most common symptoms in young children with Chiari, which can lead to growth problems.
Older children with Chiari often have scoliosis, an abnormal curvature of the spine.
The cognitive, emotional, behavioral, and developmental effects of Chiari have not been studied extensively, and are not well understood.
There is no real cure for Chiari, rather many children have to undergo a painful surgery in an attempt to alleviate symptoms, and some children end up having multiple surgeries.
There have been reports of sudden death related to Chiari, for example due to respiratory issues, but it is not clear how often this occurs.