What Is Chiari Malformation?
a serious neurological disorder where the bottom part of the brain, the cerebellum, descends out of the skull and crowds the spinal cord, putting pressure on both the brain and spine and causing many symptoms.
---
Common Symptoms
Chiari has a wide ranging, diverse set of symptoms and affects everyone differently. Research shows that 95% of patients experience at least 5 symptoms. (see Symptoms Presentation above)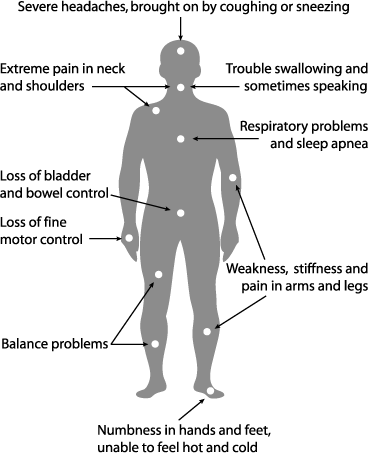 ---
Has your child been diagnosed with Chiari?
Children cannot always verbalize what they are feeling, sometimes the first clue is lack of proper development, either physically or cognitively.

Fortunately, pediatricians are becoming more aware of Chiari, resulting in quicker diagnoses for children.

Click on Nicole's picture to enter our pediatric section for pediatric related articles, literature and support.
---
2016

| A Toast to Conquering Chiari
Kristen Huston | Salem, OH
- The 1st wine tasting fundraiser was held on
October 16, 2016
at Salem Golf Club and raised over
$1,200!
Kristen's Story: I decided to do this fundraiser was that so many people with Chiari Malformation go undiagnosed or misdiagnosed for years! So many doctors aren't aware of all that Chiari entails. There are so many factors that go into it that I feel aren't known by patients and doctors. I myself was told by one doctor that I was making it all up and then a few weeks later was told by a very well-known surgeon from Cleveland Clinic that I had to have surgery! I want to help with the research and education to help get the awareness out there! So many people have problems for years! Many people have multiple surgeries! Some Doctors dive right into surgery and don't have all the answers. I hope & pray that if we can raise money to help complete the research so that we can one day saying there is a cure for Chiari, so many people could finally be helped.